****And the randomly selected winner is: Amy Mays. Please check your email as your book should have arrive! I hope you enjoy it.
Not a winner this time? You can buy the book here:
One of our very own Tangled Girls has a book birthday today!!!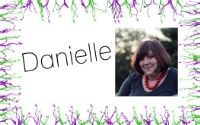 Danielle's book, Salt, is out today through Entangled Teen, and to celebrate, I'm giving away a copy (kindle version)!
Here's the beautiful cover:
Isn't it gorgeous and sparkly?!
And here's the description:
"Penelope is a witch, part of a secret society protecting humans from demon attacks. But when she was a child, a demon killed her parents—and stole her magic. Since then, she's been pretending to be something she's not, using her sister's magic to hide her own loss, to prevent being sent away.

When she's finally given the chance to join the elite demon-hunting force, Penelope thinks that will finally change. With her sister's help, she can squeeze through the tests and get access to the information she needs to find "her" demon. To take back what was stolen.

Then she meets Carter. He's cute, smart, and she can borrow his magic, too. He knows her secret—but he also has one of his own.

Suddenly, Penelope's impossible quest becomes far more complicated. Because Carter's not telling her everything, and it's starting to seem like the demons have their own agenda…and they're far too interested in her."
So here are the details. Enter by leaving a comment with your name and your email (use the one connected to your kindle account, please). You don't have to follow the blog (though feel free to!) and please share on Twitter or Facebook. I will randomly pick a winner TONIGHT and will update the blog with the winner's name tomorrow. Good luck and Congratulations to Danielle!
And now (because I'm incapable of posting without a gif) here's a random gif of a happy dance to help celebrate! CONGRATS Danielle!